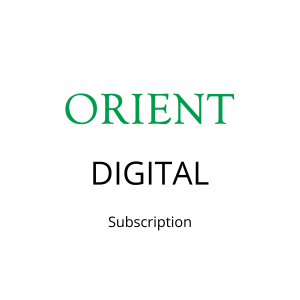 € 80,00 incl. VAT excl. Shipping
Includes digital access to 4 new issues of the Orient Journal per year (starting from the date of your purchase). Does not include access to issues published before the date of your subscription purchase.
50% Discount for Students! To make use of this discount you must send us an E-Mail with a scanned copy of your valid Student-Card (Student-ID) from your University-E-mail. Afterwards, you will receive a coupon code. If you do not want to wait you can pay the full price now and receive a free year of subscription after the first year paid in full.
4 Issues / Year (Digital)
Back Issues until 2008 (Digital)